Kingsford® Match Light® Charcoal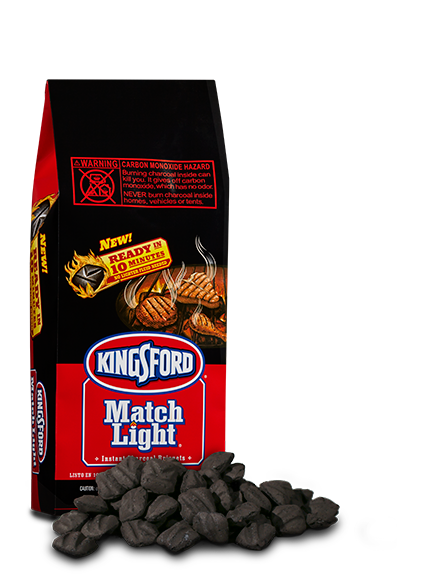 Kingsford® Match Light® Charcoal makes lighting easy. Each briquet features just the right amount of lighter fluid, so you can light your grill with just a match. Just light the briquets in one easy step and you'll be ready to cook in 10 minutes. Match Light® Charcoal contains the same quality ingredients as Kingsford® Original Charcoal, and it's available in a variety of sizes — from 2.81kg to 5.26kg bags. Always close bag tightly after use. Kingsford® Match Light® Charcoal should last one to two years when stored in a cool, dry place and when bag is unopened. For best lighting results, partially used bags should be rolled tightly down to the level of the product in the bag and secured closed. Additionally, storing open or unopened product in a cool, dry place will help preserve the product performance as long as possible.
Start cooking fast with Kingsford® Match Light® Charcoal.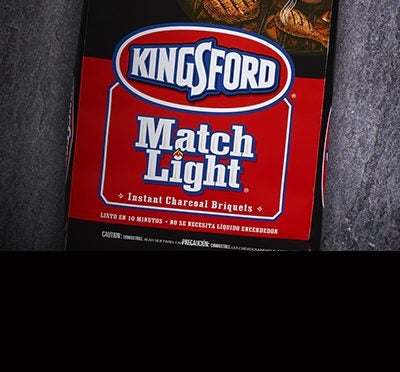 Ready to cook on in 15 minutes

More edges for fast lighting
For Your Safety
• Never cover flaming briquets with a grill lid. Covering flaming briquets may result in a flare-up when lid is removed. Use water to control excessive flames.
• Do not light any part of the bag.
• Barbecue away from flammable items, overhangs and trees.
• Do not add Match Light® charcoal once fire has been lit. Add Kingsford® Original Charcoal Briquets if extra charcoal is needed.
• Make sure ashes are cold before discarding.
• Do not use in water smoker grills.
• California Proposition 65 Warning: Combustion (burning) of this product, like other cooking methods, produces carbon monoxide and other substances known by the State of California to cause cancer, birth defects or reproductive harm.
*Compared to other USA charcoal brands